Conor McGregor VS Floyd Mayweather Rematch In The Octagon
Floyd Mayweather applies for MMA license as UFC fight with Conor McGregor appears to edge closer
The 41-year-old made over $300m from his boxing fight against McGregor, with an MMA rematch believed to be in the works
Floyd Mayweather appears to have taken yet another step forward on his unlikely journey from boxing to mixed martial arts.
The 41-year-old announced his retirement from boxing after his fight against Conor McGregor last year, but recently told TMZ Sports that he plans to begin MMA training with UFCwelterweight champion Tyron Woodley.
And on Monday Mayweather confirmed that he has applied for an MMA license, with the ambition of eventually making his debut in the UFC.
"Everything takes time. Eventually, we are going to apply for the license, and hopefully we can fight," Mayweather said.
Mayweather beat McGregor easily last August to retire from boxing with a flawless professional record of 50-0. The fight became the second highest grossing pay-per-view event in history, with Mayweather thought to have earned in excess of $300m.
It didn't take long for both men to begin talking about a rematch, with Mayweather last week claiming he was ready to follow in McGregor's footsteps and switch codes.
"I can wrestle. My wrestling game is not that bad," Mayweather said. "On a scale from one to 10, it's probably a seven. And I think we can take it up to a nine if possible. Of course, my hand game, on a scale of one to 10, is 100. My kicking game, on a scale from one to 10, is probably a four."
The fight would come as a boon to the UFC – which has struggled for mainstream publicity during McGregor's long period of activity.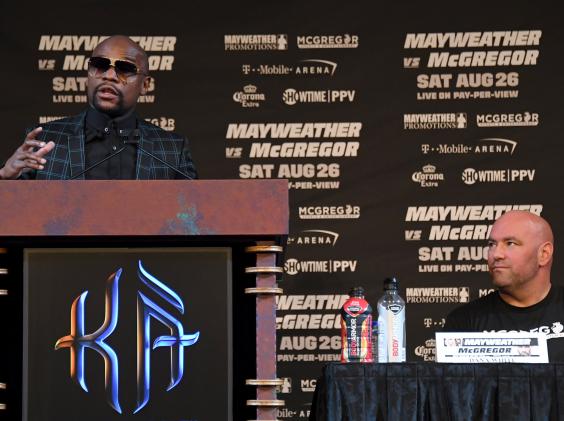 The Irishman became the biggest star in the sport when he knocked out reigning featherweight champion José Aldo in just 13 seconds, in December 2015. But he has not fought in the UFC since November 2016, switching his attention to the Mayweather and then taking a break away from combat sports.
"We're talking to Floyd about doing a UFC deal," UFC president Dana White told ESPN back in December.

"It's real. He was talking about [boxing] Conor McGregor. Was that real? Have you heard Floyd talk about many things that aren't real? He usually tips his hand when he's in the media, and then that s*** ends up happening."