The inspiration driving rising Parramatta star Marata Niukore
In what has been a diabolical year for Parramatta, Marata Niukore doesn't have to look far for perspective.
Having made his NRL debut in round 11 against his former club, the Warriors, Niukore has become a mainstay in the Eels pack. While he has enjoyed precious few wins since then, there is much to be grateful for off the field. He recently welcomed the arrival of his first born, son Kayden Leigh.
While the Eels are struggling to avoid the wooden spoon, that battle pales into insignificance when compared to what his partner is going through to achieve her sporting dreams. Nikki Johns is a New Zealand swimmer whose dream is to represent her country at the Olympics. Like Niukore, she moved across the Tasman to pursue her ambitions, but health issues have, to date, prevented them from being realised.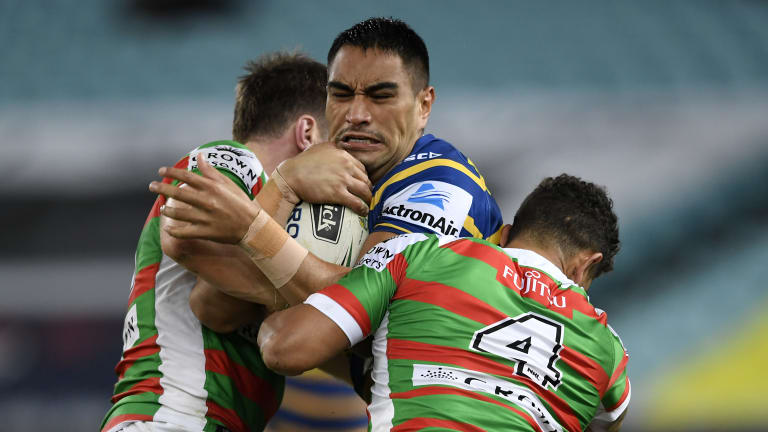 Johns suffers from severe ulcerative colitis, a condition she contracted after a reaction to antibiotics following tonsillitis in 2010. The condition has resulted in surgery and countless stints in hospital.
"It's crazy what she's been through," Niukore said. "She had her large intestine removed, she only has a small intestine now, but it hasn't stopped her from doing what she's done in sport.
"She had to have surgery on her tummy – she is supposed to wear a colostomy bag, but she doesn't want it at the moment because she can't carry it while she's swimming.
"At some stage later in life she's going to have to put it back in.
"Even right now, this year being a mum to our kid, it inspires me. She's strong and that's why she's in the position she's in today."
Johns has been open about her health struggles in the hope she can inspire others going through similar issues to keep chasing their dreams. Medicos told her she would need to give up her swimming career following the diagnosis, but the dream remains alive.
"If it wasn't for swimming I don't think I would still be here," Johns told the Chron's and Colitis NZ website.
"I want to reach out to those who are losing hope and/or struggling. I want to help."
Niukore added: "She wants to take up swimming again. At the moment she's leaning towards water polo; something to do in the water. That's her happy place. Whatever she decides, I'll back her.
"Whether I've played under-20s, NRL or NSW Cup, what she's been through, you can't question that.
"Coming home after a game, seeing the little one and her at home, it brings me back down to earth. It's like, 'this is my life, this is who I am off the field'."
Niukore has been a rare bright spot in a tough season for the Eels. The 22-year old back-rower has made the most of his opportunities during his 12 NRL appearances. He is averaging 74 metres and 24 tackles a game, proving to be a handful with and without the ball.
The decision to leave New Zealand, where he worked as a painter while coming through the grades at the Warriors, has been vindicated. Asked if painting was harder than being an NRL forward, the south Auckland product said: "Definitely doing the painting job.
"At the time, it was come over [to Australia] and take my chances or stay back and do nine to five digging holes for a living.
"I didn't want to do that. I took the challenge, asked my partner what she thought and it all happened. We just packed our bags and left."